AquaStop – treatment for demanding environments
Svensson is proud to introduce AquaStop, an additional option for our flame retardant upholstery fabric Khaki. A special technology is used to apply the 100% waterproof polyurethane membrane to the back of our fabrics. The face of the fabric is finished with a dirt and liquid repellent treatment.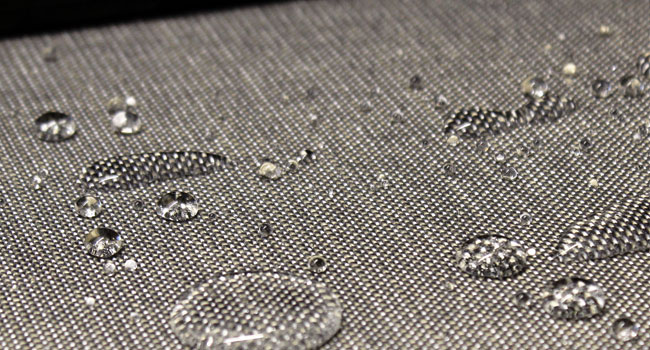 AquaStop is an additional option for our flame retardant upholstery where the fabric Khaki are included and can be treated with the following finishes:
Water and stain repellent
The benefits of water and stain repellent treatment are:
The surface repels dirt and liquid
Washable
The fabric keeps its appearance longer
The fabric dries faster
The fabric is easier to clean
Laminated reverse
A laminated reverse prevents liquid such as urine to penetrate through the material into the padding. Both furniture and fabric is easier to keep fresh. The fabric is washable and easy to keep clean.
Aqua Stop - a combination of both treatments
Aqua Stop is a combination of the two treatments - dirt and liquid repellent on the face side and a laminated waterproof reverse. Together these new finishes are the perfect solution for public spaces such as the hospitality industry, medical institutions, ships and other transport equipment, and further applications where flame-proof, dirt and water repellent fabrics are required.
All variants are available within the standard colour offer of Khaki. Please note that the treatments could result in slight variations of the characteristics or structure compared to the non-treated fabric. Batch to batch variations in shade may also occur within the accepted commercial tolerances. Minimum order quantity for laminated reverse is 30 meter, and 100 meter for dirt repellent face and AquaStop (combination treatment).